Welcome to Cahuenga-Bars.com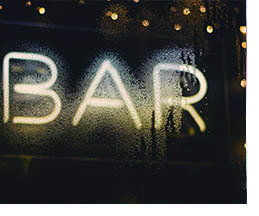 Ask about the best bars in Hollywood or the greater Los Angeles area and locals will surely point you to Cahuenga Corridor, where the most number of bars and night clubs are situated. From dive bars and gay bars, to music bars and classy nightspots, Cahuenga strip offers everything that you can imagine.
With Hollywood's ongoing nightlife resurgence over the past few years, the once seedy Cahuenga strip has become a nightlife paradise of trendy dance clubs, sexy singles bars and, of course, celebrity sightings.

Bar lovers will swear that Cahuenga has everything they ever desire for a bar - hidden bars that have secret entrances, tiny bars that offer huge dance floors, and neighborhood bars that have been in the area since the time of your parents.
Prices of beers and other drinks depend on the type of bar that you are getting in. There are pricey bars and some affordable ones too. But how would you know which bar to go before actually getting into the place?
This is where Cahuenga-Bars.com comes in. We strive to provide you with the best review of the different bars, night clubs, and lounges in the Cahuenga Corridor to make sure that you will be in the right bar when you come to the place.
Browse through our listing and be guided in your choice of the bar to visit when you are in Cahuenga.
We strive to make this site as comprehensive as possible. So if you find a new bar or club in Cahuenga or if you've just been to a bar that is not listed here, let us know so we can immediately update our list.